If you ever go across the sea to Ireland
Then maybe at the closing of your day;
You will sit and watch the moonrise over Claddagh
And see the sun go down on Galway Bay
These lyrics were recorded by Bing Crosby back in 1947.
I knew them from hearing my father singing them when I was a child. They always invoked a sense of having some connection with Ireland. This sense was underscored when my youngest daughter was born on St Patrick's Day. It seemed like a great thing to do, then, to meet up in Galway on St Patrick's Day 2020 to celebrate her 30th birthday.
She and her husband arranged their own travel, taking in the UK: London, Midlands, York, Edinburgh, Highlands and Skye, Belfast etc. We planned to meet up in Galway for shared fun in the Latin Quarter on St Patrick's Day.
We decided to build on our home exchange experience from last year to arrange an exchange with a couple from Ireland. Luckily, we found a couple who were willing to exchange with us for 4 weeks in March 2020.
We were off to Roscommon County: pretty much dead centre in the middle of the island of Ireland.
Athlone; nearby, has a craft brewery called Dead Centre and their beer is available in the middle bar at JJ Harlow's in Roscommon town.
There's a lot of value in being centrally located as we tended to go on road trips that radiated out from Roscommon in different directions. Rain was rarely far away and, with generally chilly temperatures it was comfortable to enjoy lots of drives through cute villages, around larger centres and past lots of ruins.
We found Ballina, the Salmon Capital of Ireland and enjoyed wandering along the streets in Sligo where it was easy to imagine a very vibrant culture and night economy.
Sligo where:
Alongside gastro pubs and bars, the stream tumbles past with the rushing urgency of some late season thawing of the blobs of snow still dusted across the heights near the town.
It seems that, with the flooding of the Shannon that we'd seen along the way, there seems to be an even wider acceptance of the variations that are appearing within our 'usual' weather and seasonal patterns.
No chance this time to see Sligo after dark but it has the look of a place where you'd be likely to catch some very fine fiddling and fun, along with the potential for melancholy.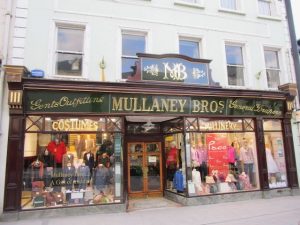 It does look like Mullaneys is the place to go for fancy threads.
(Currently closed at the time of writing March 2020 due to Covid 19)
From Twitter: John Mullaney @mullbros
Despite trading continuously for over 110 years, we have taken this decision in the best interest of public health and safety of our staff, but we wish to advise our customers that we are closed until further notice.
Another rainy day and the chance to head to the South West and check out Galway.
A reconnaissance in Galway didn't provide the chance to watch the 'moon rise over Claddagh' but did almost present the vision of a moon over Galway Bay when some young guy; with the look of a losing bet.. raced down the windswept beach in his boxers and jumped into the rough chop of the wind driven waves.
We found the carpark for our intended destination on St Patricks Day and had a quick look around the end of the Latin Quarter. It looked like it should be great fun to spend a few days here. Our intent was then to return the car at Dublin Airport before flying to CDG Paris; staying overnight in an AirBnB near La Defense before five days in the apartment of another home exchanger.
Local radio explained that, while recent cases of Covid 19 were appearing in Ireland there was no immediate plan to curtail St Patrick's Day celebrations. Within days, the parades were banned and, days after, the pubs themselves closed indefinitely.
We had been in contact with another of our home exchange partners in Paris to see how they were feeling about the situation there. They were still planning to go skiing somewhere in the mountains toward Italy. It still sounded as though it was still reasonable to continue on the Paris after our time in Ireland.
In the warmth of our log fire fuelled homeliness of our home in Roscommon, we booked our flights to Paris, arranged AirBnB etc.